Discussion Starter
·
#1
·
The CZ75 P-07 Duty service pistol was introduced in 2009.
Prior to that, CZUB (Uhersky Brod, CZech Republic) had a model called the CZ100.
It was like a Glock in that it had a polymer frame and was very reliable, but
had (DAO) Double Action Only trigger that only a red-headed step-child would love.
Mine, was quickly sold to buy yet another Glock or Ruger, as us CZ fans and owners
hoped to..
someday see the improved version: The CZ 110.. reach our shores here in the USA.
That never did happen, but I'm sure that the CZ 100 and CZ 110 would sell well in this
sea of DAO pistols that exist on today's market.
Skipping ahead 13 years or so:
For those of you who don't know about the P-07 Duty or the newer (for 2014 )
P-07 (no more Duty designation) I'll provide a link at the close of this review.
In thinking that a quality firearm such as the P-07 Duty (and most CZs, Glocks, ect) does
indeed need a quality holster.
I turned to my friend Clay Moultrie, of SHTF GEAR ( located in Utah ) for one of his excell-
ent ACE-1 (Always Combat Effective) hybrid IWB (Inside The Waistband ) holsters.
(You can find SHTF GEAR holsters on his website and also on Amazon.)
This is my second P-07 Duty, as the first one had some teething problems and went
back after intitial testing. I'm glad to say that that this new one is the improved "B"
series and has zero frame bulge.
[
That said. This will be my third SHTF GEAR holster review- so here goes!
Arriving in a brown cardboard box ( the last two boxes were white) with the very
distinctive SHTF fan logo stamped onto it. The holster came only 4 days after I contacted
them.
The holster body is made of black leather and the holsters are 100% American made.
Then you have the kydex holster shell and the kevlar stitching.
My P-07 Duty (they offer holsters for other CZ models like the P-01 and newer P-09 as well)
holster came with the black metal clips (installed) as shown here.
Various instructions and two set of nylon loops, one black and one in brown, along with a
very detailed invoice that dictated the Ace-1 , and the "LOK LOOPS" as requested.
Some people like the clips just fine, but as with my other 2 SHTF products- I prefer the
softer loops.
These are made of a synthectic mesh material and seem to be very durable in the half
or so year that i've used them on my LCR and LCP w/CT ACE-1 holsters.
I did request the black and brown loops, so they will be in use for summertime carry
when I will switch from black to tan or brown gear. One nice feature that I can only assume
that comes with all SHTF Gear holsters that include their new loops, is the two extra screws
that are longer than those used for the clips .
The same for some small phillips-head screw driver looking tool as well.
These holsters do have a generous back side as well. Good for distributing the gun's
weight and is very comfortable to wear as it breaks in easily.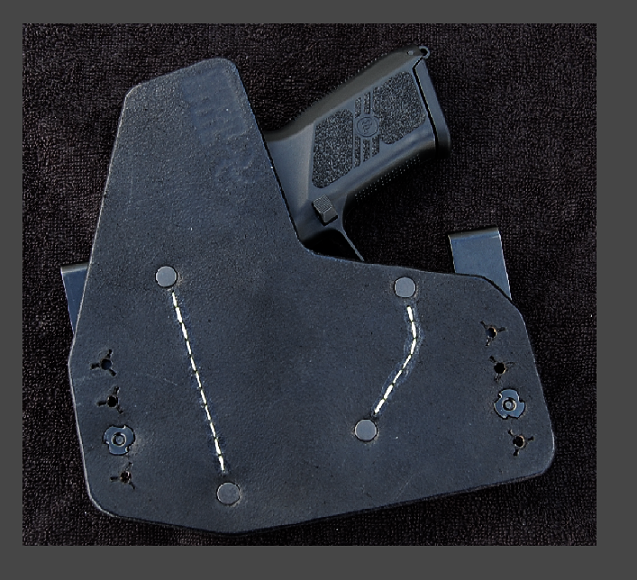 You can see that it has 3 positions for the clips or loops, along with your preference of rake.
I could extoll the virtues of SHTF GEAR and their wide array of holsters and superb
customer service, but the bottom line is that the holsters are both very comfortable to
wear and also secure.
The IWB position keeps your gun firmly in place.. but not too tight as to hamper your draw.
There is enough tension on the gun and holster combo to allow for secure carry.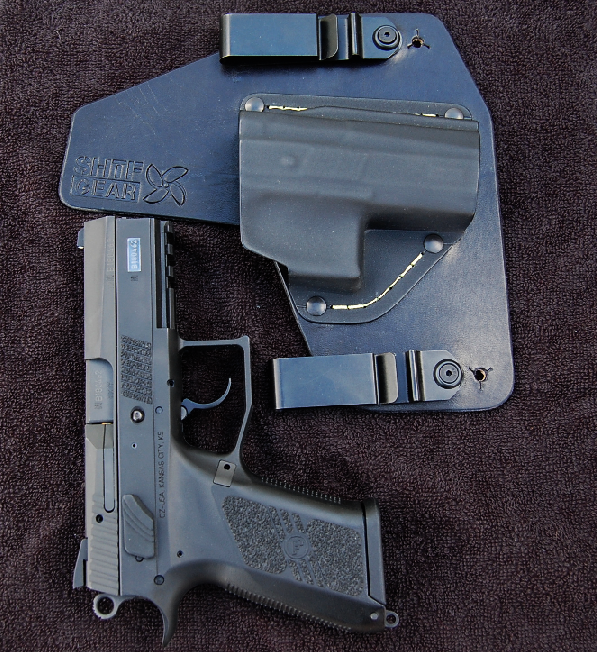 No retention straps or levers to get in the way if you need your P-07 or other
pistol/revolver in a hurry!
Also, I've never had an ACE-1 holster harm my gun's finish like some other plastic or kydex
holsters have in the past.
My own preference for the loops and also adjusting the height of the loops offers me
forward rake (or cant) of my P-07 Duty that allows a full grip.
A few trips to Wal-mart
and Costco, among other places around town, and I really have to assure myself that
I'm carrying/concealing a service sized 9mm pistol.
My LCP with Crimson Trace laserguard slides into the SHTF Holster, and I really have
no indication that I'm carrying a gun, other than the slight bulge in my waistband.
A light shirt or windbreaker does the trick to conceal it. That's something I can't pull off
with a larger pistol like my RAMI, and or revolver unless my LCR in an ACE-1.
Do other hybrid IWBs cost less than the SHTF ACE-1 holsters? Sure they do.
I've owned a few in the last year or so that were cheaper, but didn't measure up.
With the abundance of kydex holster and other holster makers and companies one
the net these days, you really have to be a smart shopper.
Even visiting the SHTF GEAR website might be a good way to gain more information
and help you make your decision when you are ready for a tough- as- nails hybrid IWB.
My hope is that Clay and his crew expand the CZ line to include the RAMI, and also the
CZ97B and 97BD.
With the advent of offering holsters for the new Glock 42, they pretty much
have Glocks covered.
I know that when the Glock 42 .380 models come into my Dealer, I'll be looking at buying
an ACE-1 for my wife, and one for my Gen 4 Glock 26 when I finally buy another Baby Glock.
Links:
P-07 Duty Concealed:
http://i60.tinypic.com/30aw1gx.jpg
ACE-1 Top View:
http://i204.photobucket.com/albums/bb26/czrami/CZ P-07 Duty/view_zpsfc08c201.png
CZ P-07 Duty ACE-1 Holster
Amazon.com: CZ 75 P-07 Hybrid IWB Holster, SHTF Gear ACE-1: Sports & Outdoors
P-07 Duty with Traction Grip:
http://i204.photobucket.com/albums/...8-0aa9-4a8a-bf91-8db910774142_zpseea43993.png
Tractiongrips
CZ-USA -> Hunting & Sporting Firearms and Accessories