Discussion Starter
·
#1
·
Pictured below is my Kel Tec PF-9...one of three that I own ( my wife and daughter carry the other two as of Christmas 2011 ).
I have added a LaserLyte to the rail...as well as a Kel Tec pocket clip that holds it pefectly in my boot top.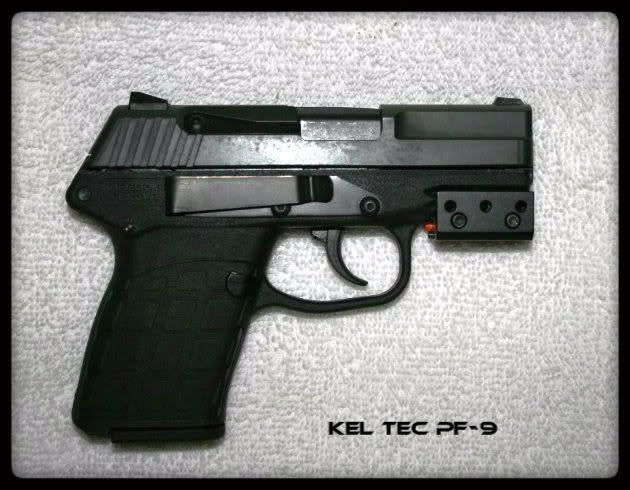 The PF-9 is a 9x19mm caliber, recoil operated, locked breech, double action only semi automatic pistol. It's manufactured in Cocoa, Florida by Kel-Tec CNC Industries. Featuring extensive use of CNC (Computer Numerical Control) manufacturing techniques, its 6 main components consist of the barrel, slide, frame, grip, trigger group, and magazine. The barrel is manufactured of AISA 4140 steel hardened to 48 RHC, and the slide is constructed of the same steel. The frame, which houses the trigger group, consists of a solid machined 7075-T56 aluminum billet. A transfer bar system connects the hammer and trigger. A hammer block safety is incorporated which helps prevent accidental discharge if the pistol is dropped. The long double-action-only trigger pull provides an additional safety feature. The pistol includes a slide hold-open feature which locks the slide in its rearmost position after the last round is fired. The grip is made of duPont ST-8018 polymer and holds the steel, 7-round, single-column magazine. The sights consist of a fixed front blade and a windage-adjustable notched rear sight. Three white dots highlight the sights for optimum visibility in low-light conditions.
I've shot all of these pistols extensively before gifting them to my girls. Then they ran a few hundred rounds down range. Hopefully, they will never need them...